WELCOME TO THE HEART OF MEXICAN CUISINE
WELCOME TO THE HEART
OF MEXICAN CUISINE
Housed in the building that once held the machine room of the former henequen hacienda, Ixi'im's dining experience is framed by timeless, award-winning architecture.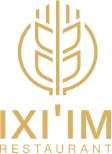 Ixi'im takes pride in its innovative mix of Mexican and local influences, which integrates fresh herbs, fruits and vegetables harvested and collected from the resort's traditional Mayan Garden. By shining a light on regional flavors and national expertise, Ixi'im creates a bridge between past and present, and redefines the dining experience. 
A man-made pond with an eternal flame welcomes diners to this contemporary eden. The restaurant also features the world's largest collection of tequila, signature cocktails, and a world-class wine cellar.