THE BEATING HEART OF MEXICAN CULINARY EXPRESSION
THE BEATING HEART OF
MEXICAN CULINARY EXPRESSION
Indoors and out, the restaurant itself is a marvel, flawlessly incorporating structural walls from the former hacienda's henequen (commonly referred to as sisal) factory. The award-winning architecture and sprawling old trees, framed by a garden of henequen plants – sometimes mistaken for agave – create a feast for the eyes, rivaled only by the culinary creations that arrive, with exceptionally personalized service, upon your table.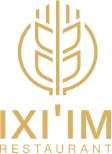 A man-made pond with an eternal flame shimmering atop its calming waters welcomes you, and here in this timeless space, your senses blaze on full alert with every sip, swirl and bite.

Your palate traverses a bridge between past and present, redefining expectations in the process. Ixi'im reveres the use of Mexican techniques and local ingredients, including fresh herbs, fruits and vegetables grown and harvested from the resort's raised Mayan gardens, or ka'anches.

Ixi'im holds the world's largest collection of tequila and a world-class wine cellar. The bar – made from the original factory's machinery – offers signature cocktails handcrafted with fresh and sometimes unexpected ingredients. Ixi'im also offers exceptional tasting experiences.